FALL INTO SPRING
BY LAURIE BROOKINS
Get a head start on 2024 trends with essential pieces you can buy now and wear now.
New York to London, Milan to Paris, the Spring 2024 collections have wrapped their debuts in the fashion capitals around the globe, and every style aficionado can't wait for the season's top trends to arrive in stores. 
Then again, why wait? If you fell in love with the plethora of fringe on the spring runways, the veritable bouquet of rose details, the flurry of feathers or the season's key waist-cinching accessory, you'll quickly discover that embracing these and the other top trends is effortless, thanks to the bounty of designer boutiques at South Coast Plaza. 
We've distilled the top-10 fashion and accessory trends of Spring 2024 and found fantastic pieces amid the Fall/Winter and Resort selections currently in stores. And better yet: Each is an ideal addition to your closet for what's needed now in SoCal, from separates perfect for the balmy, breezy weather to the perfect dress or shoe to wear to a holiday party. Explore these 10 must-have trends, each with an essential piece from one of the exceptional roster of designers available at South Coast Plaza. 
−
SOUTH COAST PLAZA
TRENDS TO TAKE YOU FROM FALL TO SPRING
−
Chances are you love fringe for a variety of reasons, from its boho origins to the fact that it simply moves beautifully, making any fringed piece an instant entrance maker. That's undeniably the case with these Laredo Long Boots by Bally, crafted in a luscious caramel-hued suede calf leather, embellished with the Bally logo in hammered gold hardware. The 3.3-inch heel also means you dress them up or down, with denim or dresses, with ease.
Granted, florals for spring aren't exactly — to quote Meryl Streep's Miranda Priestly in The Devil Wears Prada — "groundbreaking," but the motif is undeniably reaching artful new heights in recent seasons. Valentino creative director Pierpaolo Piccioli has beautifully interpreted the rose in his latest collection, designing it as an eye-catching sculptural detail. This Crepe Couture Short Dress with round neck features a pair of rose appliques at the wrist, while this wool and silk dress features a georgette lining for maximum ease.
While sheer designs are sure to be a major trend for spring, they're also perfect for holiday parties, especially as a stylish layer. This Neline Floral Embroidered Top by Isabel Marant can be worn under a jacket or over a silk camisole for instant evening chic. Crafted in black cotton floral lace that required 100 hours of hand embroidery, this easy top also features an on-trend high collar and long sleeves.
Speaking of holiday parties, feathers are another detail that immediately conveys a sense of someone who loves to have fun with their fashion. This Whitby leather sandal with 4-inch heel by Michael Kors Collection is trimmed with feathers that not only flutter with each step, they also look fantastic with a classic red pedicure.
Bustiers and corset dressing were likewise ubiquitous on the Spring 2024 runways, but Balenciaga is offering a style in its current collection that's both chic and incredibly versatile. This Lurex Tweed Halterneck Bustier with contrasting corset details by Olivier Rousteing for Balmain can be worn under a tailored menswear-style jacket for day or, with the finishing detail of a gold metal zip at the back, alone with a slim midi skirt for evening.
Metallics likewise were omnipresent among the latest debuts, in both fashion and accessories. Get ahead of the curve by adding a statement metallic to your wardrobe now, starting with a terrific structured bag that's ideal for a cocktail or holiday party. This Wanda Micro Bag by Salvatore Ferragamo shines like a piece of jewelry, from its bronze-hued metallic leather to its gleaming Gancini buckle details and the gold chain crossbody strap that's also detachable.
Anyone who favors easy style that's both relaxed and polished is sure to love the abundance of volume-inspired designs that appeared on the latest runways. Prada once again proves to be a forward-thinking designer with this Re-Nylon Mini-Dress, which blends an athletic vibe with the chic polish of a mini-dress, rendered in a motif that highlight's Prada's iconic triangle logo. The design's modernity is enhanced by Re-Nylon, the house's proprietary fabric, adding a sustainable element to his must-have dress.
With a wide belt roundly agreed to be the key accessory of Spring 2024, start looking now for the statement belt that will look fantastic with everything. Among the chief contenders: This Seal Waist Belt in black calf leather by Alexander McQueen. The AM "seal" buckle is rendered in eco-brass hardware, while the belt is 70 millimeters wide, making it ideal for day or night dressing.
White Becomes Winter White
The color that isn't a color was a huge trend on the Spring 2024 runways — but ask any stylish woman, and she's sure to name-check winter white as a chic favorite during the chillier months. Embrace winter white with unabashed style in this Mid-Length Belted Macrocannage Dress from the Dior Cruise 2024 collection. Crafted of 100-percent cotton subtly embellished with the House's Macrocannage motif, this breezy belted dress with full skirt features a high neck that's finished with Dior's Tribales button.
Designers seemed to be in a particularly equestrian mood for Spring 2024, with polo dressing among the key indicators. If you're considering adding polo separates to your wardrobe, go straight to the source: Ralph Lauren. His latest Slim Fit Cable-Knit Polo Shirt in cotton is available in bright colors that will take you from right now through the spring, while the cable-knit styling is also supremely flattering. Just don't forget to pop that collar.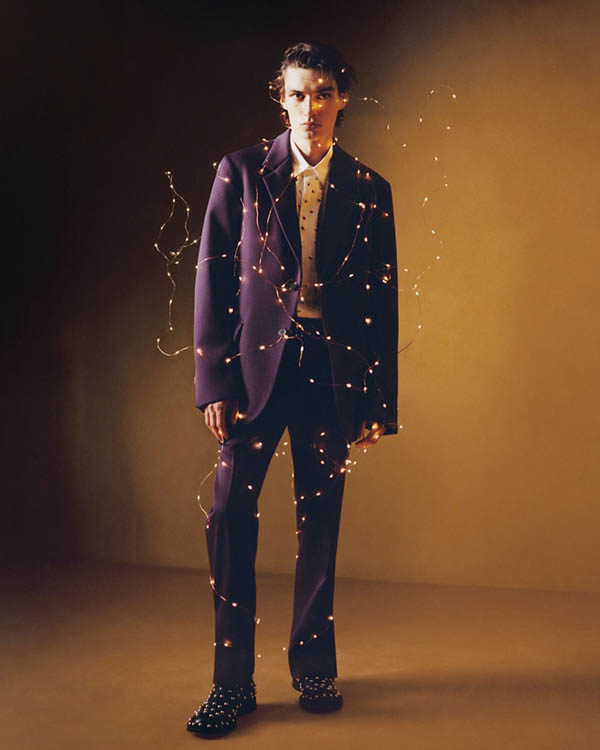 Indulge in this season's laid-back polish, festive glitz, and fresh takes on traditional tailoring.