HAPPY HOUR
BY MICHELLE DALTON TYREE
Raise the Bar with Exquisite Holiday Gifts that Delight Even The Most Discerning Palates!
There are statement-making holiday gifts and then there are those that are true conversation starters — those rarefied, exclusive finds that are bestowed with instant heirloom-worthy status.
But what makes such a truly singular gift? For starters, truly knowing what makes the recipient light up is the best place to begin. However, there is an art to bespoke gift-giving and we are going to share our recipe. In fact, we suggest thinking of yourself as a merry-making master mixologist and following our tried-and-true recipe for serving up a gift so extraordinary that they would never have imagined it for themselves.
To begin with: Always start with premium ingredients. Buttery, Italian-made leathers, crystal of exquisite clarity, rare gemstones and metals are the bedrock of a delicious present. Next: Choose top-shelf design houses known for exceptional quality and a heritage of craftsmanship passed down through the finest artisans. Then consider: Will it be on the rocks? Sure, stunning diamonds and gemstones are perennial favorites when it comes to exceptional gifts, but exquisite finds come in myriad materials and finishes.
And, lastly, don't forget to garnish with gorgeous wrapping that adds the finishing touch and hints at the inspired gift inside. Finally, sit back and savor the delight when the gift is opened!
−
SOUTH COAST PLAZA
HOLIDAY LUXURY GIFT GUIDE
−
WITH A TWIST
Surprise them with chic everyday objects handcrafted with ultra-luxurious finishes and details and served to perfection.
Saffiano Leather Chess Set
Delight the most ardent chess lover with this elegant chess set which features metal playing pieces contained in an elegant Saffiano leather box.
New Antique Vase
Inspired by one of the world's most famous vases, the Medici vase, New Antique is a bold reinterpretation that channels the beauty and excess of its original inspiration. This limited edition of 99 pieces reveals the unique craftsmanship of Baccarat's artisans.
12-Bottle Case
Perfect for true oenophiles, this elegant and ingenious carrying case was launched as a collaboration with NBA great LeBron James, an avid wine connoisseur. The case is designed to both display and protect bottles while in motion with custom-crafted cushions and features TSA-approved locks, no less.
INGENIOUS INFUSIONS
Delight them with exquisite accessories full of fashionable flavor and garnished with creative flourishes and finishes.
Umbrella Pouch in Strass and Lambskin
These petite umbrella-shaped pouches are showered with attitude — and spectacular crystals. They are made with lambskin and adorned with rhinestones and feature a zipper on the side.
Crocodile Duffle Bag with Double G
The humble duffle bag goes haute. Known for its versatility and practicality, the duffle bag is re-imagined in a luxe blue crocodile finish.
Level 1, Bloomingdale's Wing
714.557.9600
Puzzle Fold Tote
The clever illustrations of artists Shohei Fujita and Chisato Yamano — known collectively as Suna Fujita — adorn the Spanish luxury house's beloved Puzzle Fold Tote shape in this limited-edition collaboration.
Bejeweled Sandal
A true piece of art, this sandal was originally designed by Salvatore Ferragamo himself in 1956. The shoe was made in 18-karat gold for an American client, who was the wife of an oil tycoon. It is known to be the most expensive shoe that Salvatore ever created and was recently recreated by Maximilian Davis and shown at the FW23 runway show.
ON THE ROCKS
Serve up a gift with this kind of "ice" and you've made their entire holiday!
Necklace
Make them feel like a star with a jaw-dropping necklace from the Red Carpet Collection featuring a whopping nine heart-shaped emeralds totaling 50.87 carats with 69.37-carats of emeralds and another 5.33 carats of sapphires set in 18-karat, fair-mined white gold and titanium.
Planetes Ring
Out of this world. The Planètes et Météores line explores new forms and new styles of wear and showcases Hermès craftsmanship at its finest with gems in a multitude of cuts, from baguette to cabochon, oval and more.
Men's Brooch
The brooch has continued to be one of the hottest accessories for men — both on and off the red carpet. Surprise him with this limited-edition 18-karat, yellow-and-white gold men's brooch.
Level 2, Saks Fifth Avenue Wing
714.668.9142
Fancy Yellow-and-White Diamond Earrings
A fancy finishing touch to any evening attire. Stun them with these 65.62-karat beauties set in yellow-and-white gold.
Diamond-and-Emerald Necklace
Want to deliver a jaw-dropping gift? This would be it. The craftsmanship and design behind each spectacular creation underscores the House's unwavering commitment to rare jewels of the world and an unparalleled assortment of one-of-a-kind emeralds, rubies, sapphires, and fancy-colored diamonds in yellow, pink and blue for a holiday to remember.
Serpenti Bracelet
This stunning classic has achieved instant heirloom status. Delight them with this version in pink gold and onyx in a round-mounted setting with pavé diamonds.
Conch and Akoya Cultured Pearl Necklace with Diamonds in 18K White Gold
Mikimoto has set the style standard since 1893, when founder Kokichi Mikimoto successfully created the world's first cultured pearls. This necklace features a 3.9-carat Conch with 8-9 mm Akoya cultured pearls and 2.86 carats of diamonds set in 18-karat white gold.
Schlumberger ™ Bird on a Rock Collection
Flights of fancy. Delight them with heirloom-worthy pieces from this stunning collection, including:
Earrings: platinum and 18-karat yellow gold with a white diamond of over 4 carats, a fancy intense yellow diamond of over 4 carats, pink sapphires and white diamonds.
Brooch: platinum and 18-karat yellow gold with a diamond of over 10 carats, pink sapphires and diamonds.
Brooch with Fancy Yellow Diamond: platinum and 18-karat yellow gold with a fancy intense yellow diamond of over 20 carats, pink sapphires and white diamonds.
Level 1, Between Jewel and Carousel Courts
714.540.5330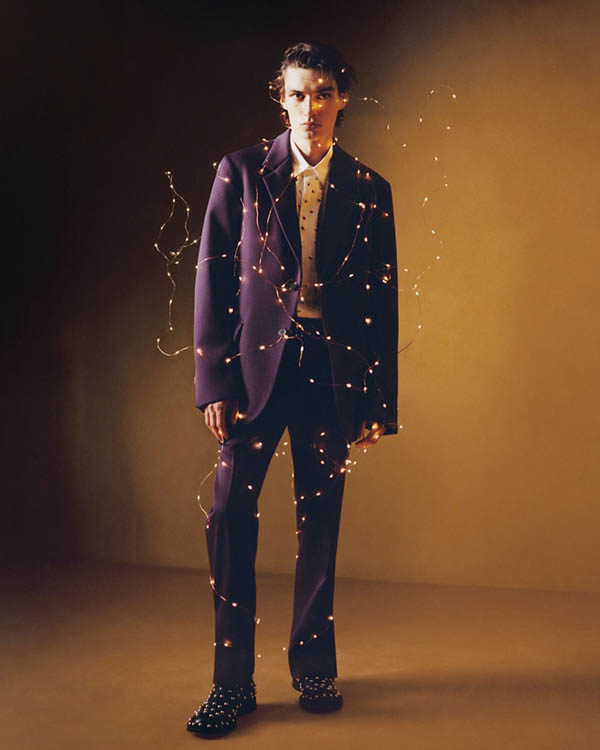 Indulge in this season's laid-back polish, festive glitz, and fresh takes on traditional tailoring.