PINS WITH PANACHE
BY MICHELLE DALTON TYREE
Très Chic Brooches To Gift, Give or Grab for Yourself This Mother's Day  (…and tips on some fun new ways to wear them)
The brooch is back — again — with a bold bang. And, trust us when we say that these are not your granny's brooches! But on the off chance they are, beg her to borrow one STAT, because this spring's pins are serious power players that are adding a daring dash of style on both women and men. From the cluster of vintage diamond brooches on Rihanna's custom Loewe red jumpsuit at the Superbowl to a bevy of best-dressed men at the Oscars who wore them on their lapels — including Oscar winners Ke Huy Quan and Michael B. Jordan — brooches are the surprising new accessory to covet.
Spring's pins are anything but prim, and make a refreshingly personal and timeless gift to a special someone, or yourself. Wear it to express a mood, channel your spirit animal or just because. More than a style statement, we also love the idea of brooch as a statement — and for this we take our cue from one of the most celebrated brooch wearers of our time (apart from Queen Elizabeth): former Secretary of State Madeleine Albright. She deftly used her brooches as a power message to convey foreign policy tone — from warm welcomes to warnings, depending on her audience. So famous are her brooches that they have their own exhibit titled: Read My Pins.
The modernity of the brooch can come from the pin itself or how you choose to wear it — whether you're donning one statement maker or an artfully curated cluster on this season's de rigueur tweed blazer. Other unexpected options we love: Add a brooch to the crisp collar of a shirt or use one to fasten the side of a dress. And, speaking, of grandma: If you have a family heirloom, absolutely add it to the mix! As with all things style, attitude is the secret sauce.
SPRING LOOKBOOK FEATURE
CHANEL FINE JEWELRY
N°5 SIGNATURE BOTTLE DIAMONDS BROOCH
18K white gold encrusted with 175 brilliant cut diamonds
To get you started, we've put together some of our favorite designer and fine jewelry brooches that just might unleash a new obsession. (Don't say we didn't warn you.) Happy pinning!
−
SOUTH COAST PLAZA
THE BROOCH EDIT
−
LOGO LOVE
Express your label love loud and proud. These pins aren't hiding who they are — and neither should you.
Dior DIO (R)EVOLUTION Brooch
Nothing says Dior quite like, well, actually saying "Dior." Consider this a one-and-done situation. 
NATURAL WONDERS
Convey a touch of whimsy, warmth and good luck with your favorite flower, bird, insect or animal.
Elsa Peretti® Amapola Brooch in Sterling Silver and Red Silk
This simple and elegant brooch was actually gifted to Queen Elizabeth by Melania Trump during an official state visit and will elevate everything from a blazer to a simple LBD.
Lucky Animals Hummingbird Clip
If the hummingbird is your lucky animal, then take this little beauty with you everywhere you go!
Schlumberger® Bird on a Rock Clip in Platinum and 18k Gold with an Emerald-Cut Tanzanite and Diamonds
Michael B. Jordan wore not one, but two, of these exquisite stunners on his lapel at this year's Oscar ceremony.
Ladybug Lucky Spring Clip in 18k Rose Gold, Carnelian, Mother-of-pearl and Onyx
Any outfit would be lucky to be adorned with this gorgeous pin.

Peacock Pin in Pearl, Diamond and Sapphire
This gorgeous and graceful pin features a 1.72 carat Conch pearl and 3-6 mm Akoya cultured pearls alongside 1.52 carats of Pink Sapphire and 3.11 carats of Diamonds set in 18K white gold.  
Enamel Gucci Cherry Brooch in Yellow Gold-Toned Metal
Pin this deliciously chic brooch to a cardigan, jacket or dress to add a bit of whimsy to your look.
ROYALLY REGAL
Roll out the red carpet for these captivating pins.
Crown Stick Pin Brooch in Yellow and White Gold
We think that this is a perfectly acceptable way to wear a crown on the daily!
Interlocking G Resin Pearl Brooch
Add this pin to a tuxedo jacket lapel for a dapper finishing touch.
White Gold and Diamond Serpenti Brooch
This geometric gem with pavé diamonds is a timeless house classic.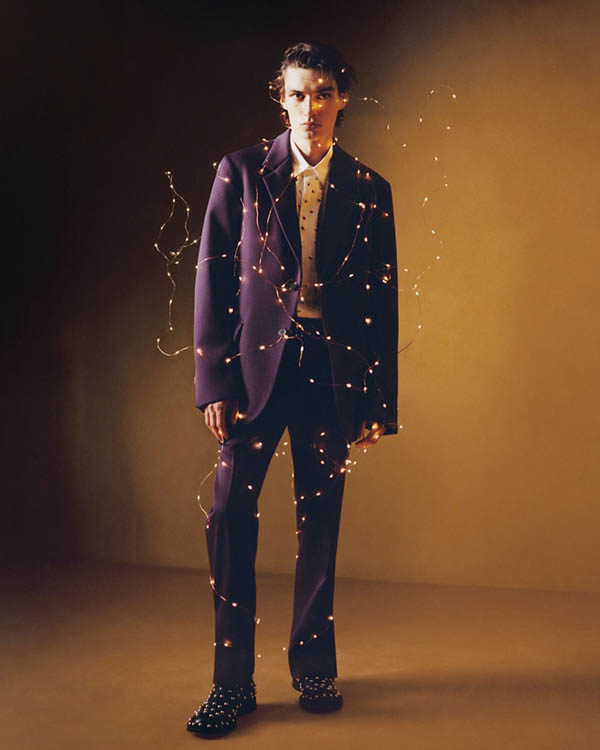 Indulge in this season's laid-back polish, festive glitz, and fresh takes on traditional tailoring.