PERFECT PLACES
FOR PIZZA AND FLATBREAD
Check out delish toppings,
from bone marrow to lobster
Chef Ross Pangilinan (photo by Tuckler & Hossler)
Pizza – it's the perfect bite to refuel while shopping, communal fare for a get-together with friends, or something light before a theater performance. Our restaurants offer a variety of pizza styles and all feature the number one pie pleaser – pepperoni – loved for its salty, smoky and spicy flavor. Other pizza toppings for the more adventurous range from bone marrow to lobster. Mangia!
Level 1, Jewel Court
714.754.0300
Quattro Caffé's full-size pizzas receive rave reviews from shoppers and Italian regulars. The recently redesigned dough has a lighter, more tender crust. The secret, according to Domenico Grillo, who helms the popular restaurant: "We bake the pies at about 600 degrees—lower than most for a wood-burning oven. It takes longer, but you get even cooking throughout with delicate crispy edges." Walnut wood is used in the 30-year-old Italian oven. Two guest favorites are the fresh toppings of finely sliced imported prosciutto with peppery arugula and a frutti di mare selection—San Marzano tomato sauce and mozzarella cheese layered with chopped shrimp, calamari and scallops.
Level 3, Crate and Barrel Wing
657.231.6447
Chef Ross Pangilinan's hearth-baked pizzas at TERRACE by Mix Mix are inventive and memorable. His original offering, Bone Marrow Pizza, is still the best seller: mornay sauce, shallot marmalade and red wine jus are topped with roasted bone marrow, which guests spread on, DIY style. The Prosciutto Pizza – arugula, San Marzano tomato sauce, mozzarella and Calabrian chili – and Salami-Pear Pizza with kale, mornay, walnut oil and goat cheese, are perfect for fall.  The proprietary dough is Pangilinan's own recipe. 
Level 1, Crate and Barrel Wing
657.231.6447
Five classic pies are offered at Mezzet Mediterranean Cuisine, all baked in a wood-fired pizza oven fueled with a combination of olive and almond wood. On any given day, a pizza is a staple at lunch tables, attesting to the sharable appeal. According to Mezzet owner Joe Dib, the favorite is Quattro Stagioni. House-made tomato sauce, fresh mozzarella, ham, artichokes, mushroom and olives caramelize on a medium-sized golden-edged crust. It is whisked to the table with its bubbling hot cheese and vegetable topping, meant to be enjoyed immediately. 
Level 2, Bloomingdale's Wing
714.437.5252
Almost every dining experience at Seasons 52 begins with a shared signature flatbread. The difference between pizza and flatbread? It's in the dough. Pizza dough contains yeast that must rise and gives the crust chewiness. Flatbreads are unleavened which results in a thin, crisp texture. Season 52's rectangular lavash-like base is toasted in a brick oven and layered with complementary ingredients. Guests love the Pesto Chicken and Fresh Mozzarella with balsamic cipollini onions, roasted red peppers and arugula. For a luxe selection, go with Lobster and Fresh Mozzarella with roasted sweet peppers, slivered scallion and lobster sour cream.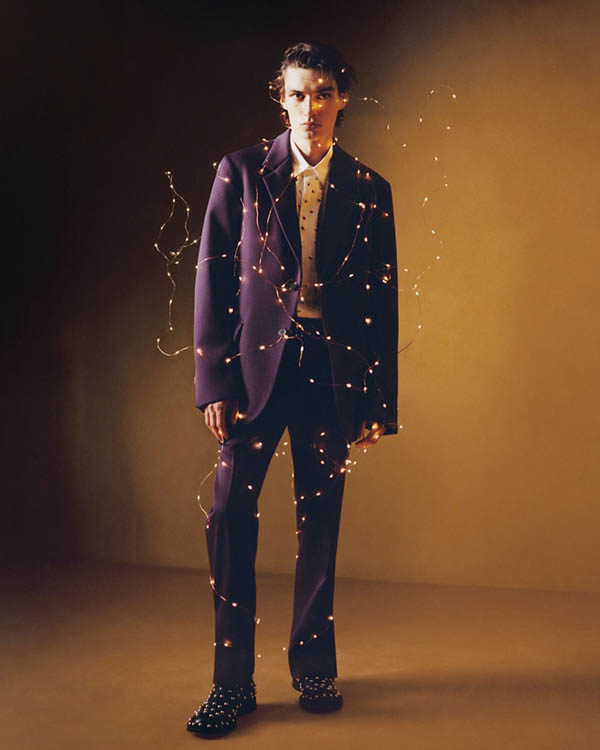 Indulge in this season's laid-back polish, festive glitz, and fresh takes on traditional tailoring.