THE MALE PEACOCK RULES
BY LAURIE BROOKINS
Fashion and accessories for stylish men are rooted this season in embracing an unabashed flamboyance, via brighter colors, luxe fabrics and a decided focus on sparkling details.
Not so long ago, red-carpet conversations were laser-focused on what Lady Gaga, Jessica Chastain and Cate Blanchett were wearing, but these days the fashion headlines put the spotlight on Harry Styles, Timothée Chalamet and Rami Malek. 
Guys who enjoy embracing their inner male peacock are currently driving menswear trends, pushing the boundaries of style into increasingly imaginative territories. That's aided in large part by visionary designers who likewise enjoy blurring the lines with gender-fluid details, from Thom Browne's shrunken silhouettes and forward-thinking men's skirts to Donatella Versace's love of bold colors and the luxe prints used to craft jackets and suits at Gucci. 
But it's also in the wide-ranging realm of accessories that today's most stylish men can truly shine — sometimes quite literally. Bold statement sunglasses, attention to details like pocket squares and cufflinks, and a return to men's jewelry that we haven't seen since the 1970s are just a few of the accessory trends that have become the must-haves of a chic man's wardrobe. Indeed, any guy dressing up for a holiday party should also make plans to add a dazzling brooch to his jacket lapel; it's the key detail, a splash of sparkle that instantly announces the man wearing it appreciates high style. 
These 12 pieces from the latest collections at South Coast Plaza boutiques have been curated to inspire you — whether you desire to only dip your toe into the trend, or you've decided to display your passion for peacock fashion like the male bird displaying his plumage. Perhaps most importantly: Have fun with it.
−
SOUTH COAST PLAZA
FALL MEN'S FASHION TRENDS
−
XIV Zipped Boots in Glazed Leather
LEVEL 2, BETWEEN JEWEL AND CAROUSEL COURTS
714.429.0101
Creative director Anthony Vaccarello is inspired by Louis XIV, the French king who famously loved high-heeled shoes, to create these XIV zipped boots in a glossy black patent leather, with a gold-plated block heel measuring 2.7 inches as the perfect punctuation mark. These Italian-made boots feature a square almond toe and a side zip.
Maxi Horsebit Cotton Jacket
LEVEL 1, BLOOMINGDALE'S WING
714.557.9600
The iconic Italian label's celebrated Horsebit motif has been employed to become an allover print for this stylish double-breasted jacket. With details like peak lapels, covered buttons and strong shoulders, this fully lined statement piece can be paired with trousers in a matching fabric or mixed with anything from denim to polished shorts.
Akoya Cultured Pearl and Diamond Ribbon Brooch
Plain Weave 4-Bar Pleated Backstrap Classic Skirt
LEVEL 2, SAKS FIFTH AVENUE WING
714.410.8485
L.U.C. Flying T Twin Joaillerie Watch
If only a hint of watch can be seen from beneath the cuff of an evening jacket, why not make sure it catches the eye? Limited to just eight pieces, Chopard's Flying T Twin Joaillerie timepiece sets a flying tourbillon at 6 o'clock and then surrounds it with 32.45 carats of baguette-cut diamonds on the dial and 42mm platinum case. 
Givenchy Giv Cut Cage Unisex Sunglasses
Formal Trousers
LEVEL 2, BETWEEN JEWEL AND CAROUSEL COURTS
714.380.3237
These formal trousers are also available in classic black, but a true peacock knows that a punch of color instantly transforms a look to standout style. Crafted of pure virgin wool, these tapered tailored trousers in light blue feature a cotton lining, concealed hook and zip closure and Versace's iconic Medusa detail in gold at the waist. 
Le Cagole Men XS Flag Bag
LEVELS 1 and 2, BETWEEN JEWEL AND CAROUSEL COURTS
714.668.0557
Artistic director Demna Gvasalia introduced his Le Cagole bag for women in 2021, and it didn't take long for the hugely popular style to find its way into the brand's accessories for men. Crafted in Italy of black lambskin and studded with aged-silver hardware, this compact bag can be worn as a crossbody to carry a wallet, smartphone and more, with Demna also thoughtfully including a removable EarPods holder. 
VLogo Signature Metal Choker with Swarovski Pearls
Equal parts sleek and sculpted, this men's tote by Ferragamo is crafted of a tumbled calfskin that's then treated with a tanning process for a result that's both soft and supple. The handles are large enough to either carry or be worn on a shoulder, while an adjustable strap is also included. The interior is large enough for a laptop and documents or an impromptu weekend getaway. 
Large Link Forge Bracelet
LEVEL 1, BETWEEN JEWEL AND CAROUSEL COURTS
714.540.5330
Crown Yellow Gold Cufflinks
LEVEL 2, SAKS FIFTH AVENUE WING
714.668.9142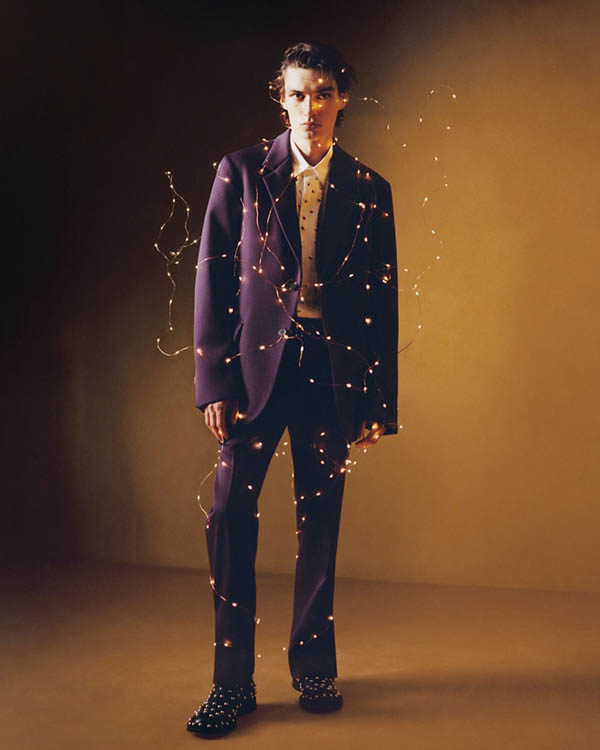 Indulge in this season's laid-back polish, festive glitz, and fresh takes on traditional tailoring.