NAOMI OSAKA DEBUTS HER OWN TAG HEUER LIMITED EDITION AQUARACER
Our Exclusive Mini Q&A with the Four-Time Grand Slam Winner
When four-time Grand Slam winner Naomi Osaka won her first match on day one of the Australian Open on Monday, the tennis star unveiled to the world her newest fashion statement, the TAG Heuer Aquaracer Professional 300 Naomi Osaka Limited Edition. The defending champion showed the watch in action in the most natural way possible: by playing.
Available at the West Coast-exclusive TAG Heuer boutique that opened at South Coast Plaza six months ago, the new watch is a collaboration between Osaka and the well-known timepiece company. Just a year ago, Osaka signed on to become an ambassador for the La Chaux-de-Fonds, Switzerland-based brand.
TAG Heuer Aquaracer Professional 300
Naomi Osaka Limited Edition
Only 250 have been made of this Naomi Osaka limited edition model, the most eye-catching feature of which is its bold use of color. The dial and the strap are rendered in shades of green, the hue that's been sweeping the fashion universe since last year. The lacquered and wave-patterned dial is in a soothing pale mint, while the five-minute markers are in neon green, sitting adjacent to white diamonds that accent eight octagonal hour markers.
The striated rubber strap is in a chic emerald – a standout in a sea of classic blacks, browns, navy and metal colors. The watch also comes with an additional strap made of recycled fishnets that's recyclable, reflecting Osaka's ongoing commitment to the environment.
Turn the watch over to reveal the case back and you'll find a charming surprise: It's engraved with Osaka's official logo – a teddy bear holding a flower.
In considering technical features, it was natural for Osaka to gravitate toward the Aquaracer model, prized by athletes and highly active people for its outstanding robustness and its wider hour markers and hands that are easy to view at a glance. The watch is equipped with the TAG Heuer calibre 5 automatic movement and is water-resistant to 300 meters.
−
South Coast Plaza's Exclusive Mini-Q&A
WITH NAOMI OSAKA
−
South Coast Plaza: What were some of the design and technical must-haves that you wanted out of a TAG Heuer watch that bears your name?
Naomi Osaka: We wanted something sporty but that could also be worn with a variety of looks. We also wanted to have two strap choices for even more versatility.
SCP: We love the shades of green for the strap and dial. Please tell us about your inspiration for those.
Osaka: Green is the color of my logo which I designed a few years ago now. The color palette "Naomi Green" was something I came up with as it gave me energy and pop. It's a color I like to wear and it flashes and clashes; plus, it's a nod to my day job (tennis).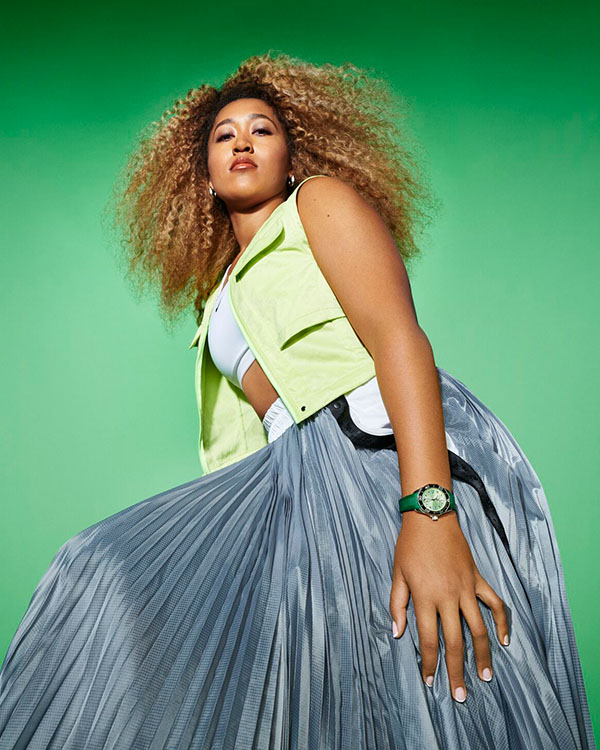 SCP: How would you describe your personal style when it comes to fashion, especially fine timepieces and jewelry?
Osaka: My daily style is really a mix of sporty and feminine. But my style for specific occasions is a lot wilder and unpredictable. I love styling outfits with pieces that are unique and unexpected, which is why my new limited edition Aquaracer is perfect for sport.
The green band feels like a nice surprise in contrast to a lot of other sporty watches out there. And for dressier looks, I usually choose a watch with a stainless steel band because it goes with my jewelry and feels more elevated.
For more on the TAG Heuer Aquaracer Professional 300 Naomi Osaka Limited Edition visit:
Three Fashion Pros Share Their Dream Dresses, Suits and Accessories for Brides and Grooms