Visit Our Exclusive Gucci 100th Anniversary Exhibit
R are is the luxury fashion house that continues to be significant, relevant and exciting after 100 years of existence. Gucci has reached this major milestone, celebrating its centennial in spectacular style with a special collection and an exclusive exhibit in South Coast Plaza's Jewel Court Oct. 1-24. The exhibit and our Gucci boutique will feature Gucci 100, a collection of ready-to-wear and accessories that pays homage to the history of the house, with a focus on music.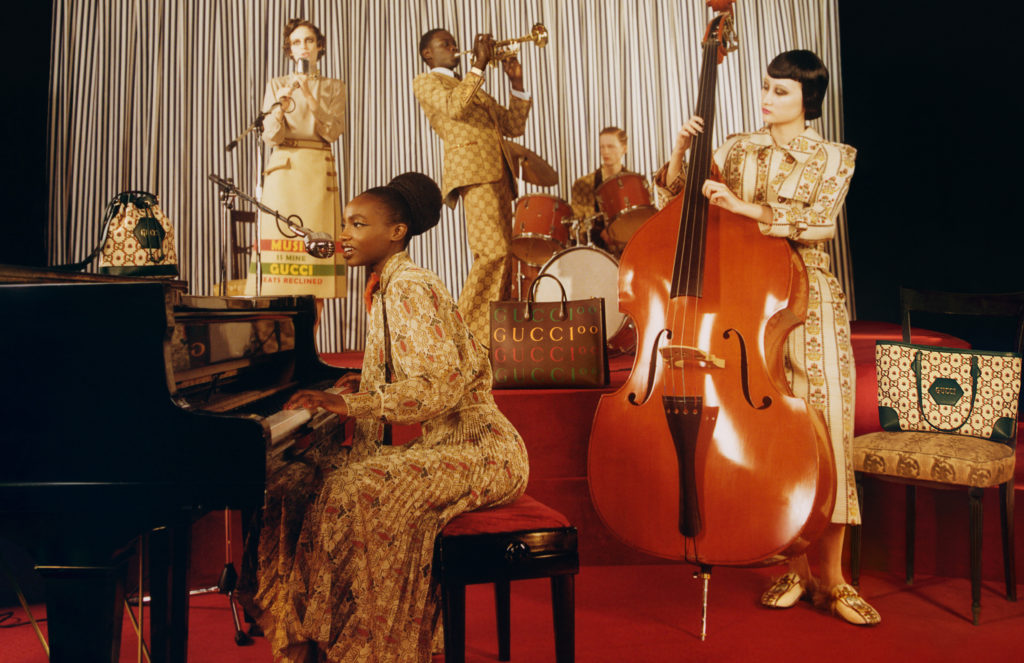 [masterslider id="362″]
The capsule collection also showcases the history of the maison, including prints and fabrics from the archive.
[masterslider alias="gucci100-set1-2″]
Gucci 100 bags with reimagined red and green colors and stripes pay tribute to Gucci's history.
Gucci 100 manifests a deep connection between two universal languages, the language of clothing as an expression of personal identity and the language of music that recalls a collective memory. It all begins with reflections on a number: 22,705. This is the extraordinary number of songs in which the word "Gucci" appears among the lyrics from 1921 until today, according to Musixmatch, the music data company that manages the world's largest archive of music lyrics and has collaborated with the maison for this research.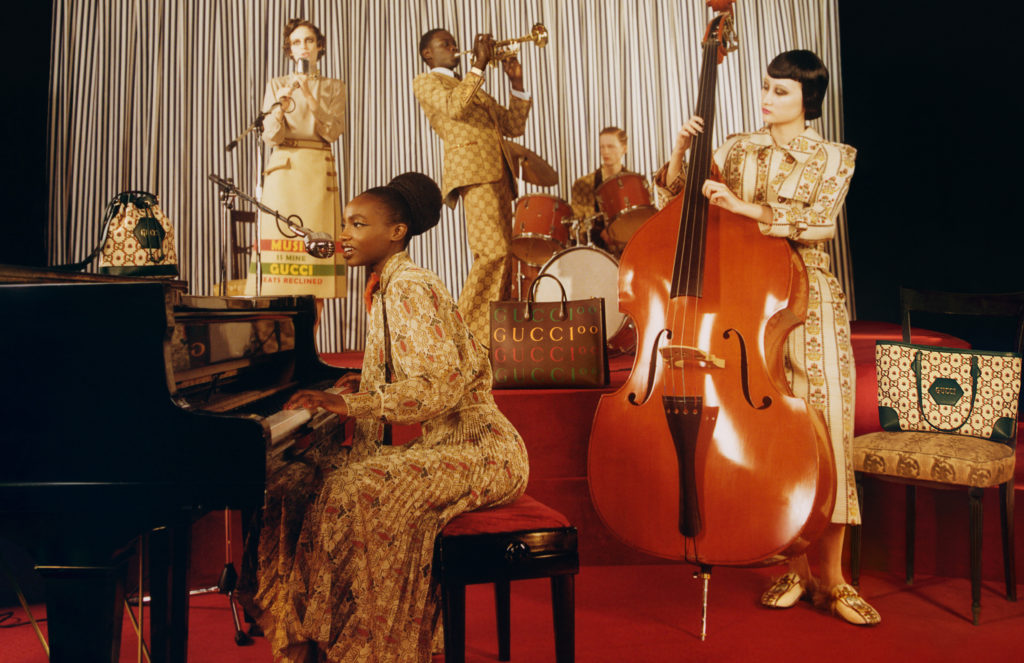 "It isn't a revisionist attempt to rummage through the past: if anything, mine is a 'reverse' revisionism of the house's history, stitched back together by a piercing note, a melody, a refrain," Gucci Creative Director Alessandro Michele said. "Also because, if I were to depict Gucci, for me it would be an eternal teenager who hangs out at places where music is heard and played."
Ready-to-wear and accessories feature the Gucci 100 logo or are adorned with verses from three songs chosen by Michele from among the tracks that mention the brand, including "And The Men Notice You With Your Gucci Bag Crew" by Amy Winehouse in 2003.
[masterslider alias="gucci100-set3″]
Another is "Music is Mine Gucci Seats Reclined," from the song "The R" (1988) by Eric B. & Rakim
[masterslider alias="gucci100-set4″]
The last song is also from the '80s, "This One's Dedicated To All You Gucci Bag Carriers Out There It's Called You Got Good Taste" from "You Got Good Taste" (1983) by rock band "The Cramps"
"The centennial, for me, represents an opportunity to bear witness to Gucci's eternal vitality that year after year, is reborn, it renews itself, reestablishing an unusual relationship with contemporaneity as a boy, forever young, observing the world with a powerful vision," Michele said. I recognized the manifestation of its youth in its having intercepted and traversed, for one hundred years now, popular culture in all its forms. Above all, in music: the only medium, aside from fashion, more reactive to the times that mutate and mark the new, the today, the now."
[masterslider alias="gucci100-set5″]
Visit the exhibit
On Level 1, Jewel Court