The Red Carpet Trend that's Here to Stay: Men's Brooches
This red carpet season, extravagant brooches and pins are in the spotlight – but not on women. Men are stepping up their fine jewelry game, wearing these singular accents at the 2020 Golden Globes awards and pre-parties. Gracing the silk satin or velvet lapels of tuxedo jackets and evening jackets, the brooches and pins feature platinum, white gold, diamonds and other precious stones and depict playful animals, insects, anagrams and more.
Brooches and pins do for men what necklaces and earrings do for women on the red carpet: bring self-expression and personality to even the simplest of tuxedos, add a layer of glamour and luxury to velvet and satin, and of course, draw attention and start a conversation.
One of the most stunning examples was Ansel Elgort's platinum butterfly brooch with diamonds and sapphires from Tiffany & Co.'s Enchant collection. Against his midnight blue velvet tuxedo, the brooch provided the perfect amount of sparkle.
Billy Porter also chose from the Enchant collection. His was a platinum and diamond dragonfly brooch (see a similar Tiffany & Co. Dragonfly brooch below) that echoed the theme of his all-white mixed media (think satin, crystals, diamonds galore and even a feathered train) tuxedo.
Jason Momoa's stylist Jeanne Yang knows what she's doing. What better way to show off our favorite Aquaman's beautiful green eyes than with the emeralds of a bold Cartier 18-karat white gold Art Deco-style brooch with diamonds and onyx.
Meanwhile, Rami Malek's choice of a finishing touch demonstrated how a utilitarian shape can become extraordinary when it's used for fine jewelry. The slender Cartier Juste un Clou 18-karat white gold pin features 24 brilliant-cut diamonds accenting its top and tip. It's definitely not just any nail, as its name humorously suggests.
Among these jewelry-wearing men, musician Nick Jonas might very well be the most adventurous with color. He chose to complement his pre-party violet ensemble with a floral-themed brooch from Chopard.
The gorgeous piece from the Haute Joaillerie collection features a 19.95-carat black opal set in 18k yellow gold and colored titanium.
Inspired by these looks? We've rounded up some of the most red-carpet-worthy brooches for both men and women from our fine jewelry boutiques below:
Dragonfly brooch set in platinum with round sapphires (1.83 cts)
and round brilliant-cut diamonds (0.37 carats)
Brooch in 18k white gold with Akoya cultured pearl
Starfish brooch in 18k gold
Plume de Chanel brooch in 18k white gold and set with diamonds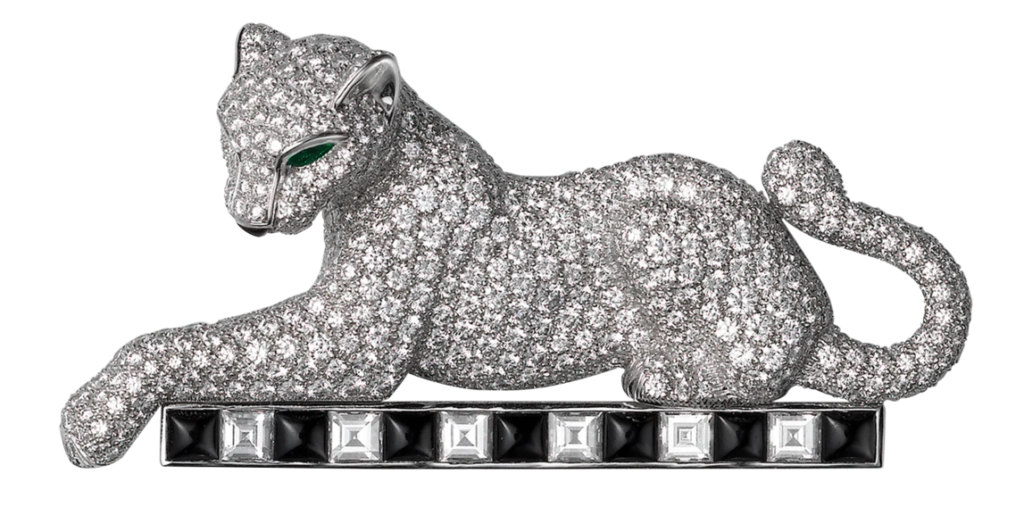 Panthère de Cartier brooch in 18k white gold and set with 579 brilliant-cut diamonds totaling 3.92 carats,
five princess-cut diamonds totaling .75 carats, emeralds and onyx
Rose brooch in 18k white gold set with 143 brilliant-cut diamonds (approx. 1.20 carats)
Fauna and flora brooch in platinum and 18k white gold set with one emerald
and 412 brilliant-cut diamonds totaling 8.59 carats
Serpenti brooch set in 18k white gold with pavé diamonds (1.15 carats)
Save the Wild Elephant brooch set in 18k white gold with round brilliant-cut diamonds (7.19 cts).
Tiffany & Co. donates 100% of the profits from the Save the Wild collection to the Wildlife Conservation Network
which includes the Elephant Crisis Fund.
Gelati brooch set in 18k rose gold with onyx and pavé diamonds