VAN CLEEF & ARPELS OPENS AN ARTFUL NEW BOUTIQUE
BY LAURIE BROOKINS
Sharing space alongside the jewelry house's latest dazzling diamonds is an art installation that beautifully captures the essential elements of the brand's aesthetic.
It's been 117 years since Alfred Van Cleef founded a jewelry house on Paris's Place Vendôme as a partnership with the brothers of his wife, who was born Estelle Arpels — and in the subsequent years, Van Cleef & Arpels built an incredible history of iconic designs beloved by some of the world's most iconic women. From the chic pieces designed in the second half of the 1930s for Wallis Simpson, by then the Duchess of Windsor, to a suite of dazzling pearl and diamond jewels set in platinum, secured by Prince Rainier of Monaco in 1956 as a wedding gift to his bride, Grace Kelly, this celebrated jewelry brand has embraced an aesthetic that is equal parts romantic and visionary for many of the most famous women around the globe. 
That focus on unabashed romance combined with modernist design is likewise true of the latest Van Cleef & Arpels project: an expanded new boutique at South Coast Plaza. The jeweler announced this month that a new 4,200-square-foot space has opened at the Costa Mesa retail destination, a larger space that allows clients to enjoy a comprehensive Van Cleef & Arpels experience. 
Clients will immediately recognize that evolution from the boutique's façade. Crafted in ivory and gold, the storefront takes its cue from the geometric motif of a 1937 Van Cleef & Arpels minaudière. Once inside, fans of the brand will discover an expansive showcase for the stories this jeweler loves to tell, starting with a pair of large display rooms, then leading to five more intimate salons, another five "libraries" featuring curated collections, a bridal salon and finally a private "Poetic Salon" for VIP appointments. 
And within the center of it all, you'll encounter the boutique's "Winter Garden." This exclusive space is a partnership between Van Cleef & Arpels and French artist Marianne Guély, who specializes in fanciful paper sculptures. With her team of artisans, Guély created a bespoke installation measuring 12 meters, a concept that seamlessly married the jeweler's rich history in florals with the bucolic vibe of California's countryside. Set in glass-enclosed cases, Guély crafted hand-sculpted and painted flowers and plants in paper to create an idyllic display that evokes a modern interpretation of the jeweler's passion for gardens, rendered in ways both expected and forward-thinking. 
Guély also found inspiration in the lush wallpapers designed by Fromental, the London-based company that has partnered with Van Cleef & Arpels on multiple boutique installations. Within the Poetic Salon, Guély designed a paper installation that mimicked the soft florals created by the Fromental work seen on an adjacent wall, creating a tableau that mesmerizes the visitor in a variety of dimensions. 
Ultimately the purpose of these interiors is not only to captivate visitors with an exclusive space, but also to serve as a framework for the treasure trove of the latest Van Cleef & Arpels jewels, from pieces that are inspired by some of the house's most legendary concepts to the more modern interpretations for clients seeking contemporary designs. Lately these pieces include everything from the newest Alhambra jewels, crafted in 18-karat rose gold and embellished with diamonds or carnelian, to high-jewelry watches like the Midnight Planétarium, which depicts the planets on a dial crafted of aventurine, or the self-winding Lady Arpels Heures Florales, a 38mm watch that showcases the exquisite artistry Van Cleef & Arpels brings to a floral-inspired watch, here realized in a bouquet of sapphires, diamonds and mother of pearl in white, yellow and rose gold.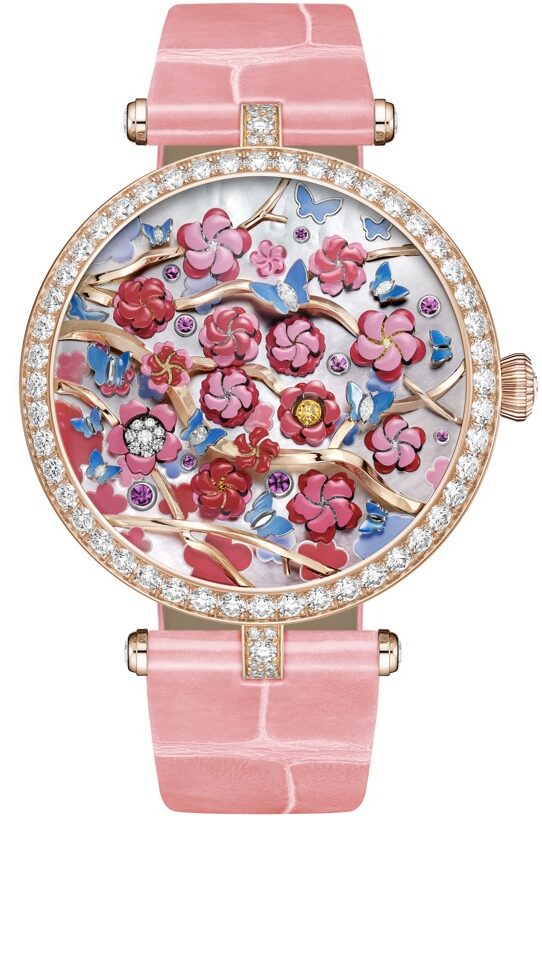 And for high-jewelry clients, there's "Brume de Sapphir," which translates to "Sapphire Mist" and highlights the beauty that occurs when sea-inspired blue sapphires and white diamonds meet in a design. Set in 18-karat white gold, the mix of stones is key to each piece: seemingly random in its effect, and yet a thoughtfully considered mélange of beautiful color.  The same might be said of the details in the newest Van Cleef & Arpels location.
❝
We are thrilled to unveil this new location of our beloved boutique. South Coast Plaza is one of our most important jewels on the West Coast. Our hope is to captivate clients with this welcoming environment.
❞
HELEN KING, PRESIDENT AND CEO OF VAN CLEEF & ARPELS, AMERICAS
Three Fashion Pros Share Their Dream Dresses, Suits and Accessories for Brides and Grooms