FEMALES IN FASHION
In celebration of International Women's Day, take a look at several of the South Coast Plaza brands designed and run by women.
For too long fashion has been an industry focused predominantly on women but run by men. A recent study by Business of Fashion revealed that women make up about 14 percent of leadership positions among the largest fashion brands.
Today, the most influential global fashion brands are shifting those dynamics by working towards gender equality as part of their overall equity, sustainability and governance efforts. This includes increasing the number of female founders, creative directors, and CEOs, as well as addressing gender inequities in manufacturing and the global supply chain. 
International Women's Day (IWD) is a day when the social, economic, cultural, and political achievements of women are celebrated. IWD was started in 1911 and is held each year on March 8. The 2023 global campaign theme is #EmbraceEquity.
Maria Grazia Chiuri, Creative Director, Dior
−
In recognition of IWD, here is a look at 12 women in key creative and leadership positions for international brands with boutiques at South Coast Plaza. 
−
Anine Bing launched her eponymous brand in 2012 out of a garage in Los Angeles. Bing combined her European roots (she was born in Denmark) with a hint of vintage rock 'n' roll to create a wardrobe that became the original collection of essentials.
"We launched with very few products at first, with about 10 to 12 pieces," Bing says. "I always loved denim and effortless vintage T-shirts and leather jackets, so those were included." Bing had a significant social media following of her own as a style influencer (I always had a unique style and was pretty good at finding vintage mixed in with current brands") and model and found much of the brand's initial success online.
Today, the brand is a global powerhouse that fuses a European aesthetic with vintage Americana. Bing serves as founder and chief creative officer, and her husband Nicolai Nielsen is founder and chief executive officer.
❝
I have one mantra that's tattooed on my arm, which says, 'you know when you know.' I follow that in life and in business. I want to encourage women to listen to themselves — we all have a good gut feeling. If we're brave enough to listen, it can really take us far in life and in business.
❞
ANINE BING, ANINE BING
Reformation began by selling vintage clothing out of a small storefront in 2009. In 2013, the brand opened America's first sustainable factory in downtown Los Angeles. Hali Borenstein started working at the sustainable-clothing brand in 2014 as director of merchandising. She climbed the company ranks, from VP of merchandising to president—and in 2020, she became CEO when the company's founder stepped down. Borenstein has led the company since, seeing success expanding into new categories by launching activewear and shoes in 2021.
"We want to give people a reason to shop in-store, rather than just online," Borenstein says. "So, we're building out the infrastructure of our stores to support a high-tech retail experience." There's customizable lighting and music in dressing rooms, and customers can choose which pieces they would like to try on using iPads found around the store and in dressing rooms.
The company intends to achieve net zero carbon emissions by 2025, an ambitious goal for any company.
❝
I became a mom while at Reformation, which made me feel an even greater sense of responsibility for the environment and our impact on it.
❞
HALI BORENSTEIN, REFORMATION
In May 2010, Sarah Burton became creative director of Alexander McQueen following the death of its founder. Burton initially joined the company as an assistant to McQueen, who became her mentor. In 2000, Burton became head of design, charged with translating each season's runway looks into more commercial styles.
The year after taking over as creative director, Burton designed Kate Middleton's royal wedding dress, as well as Pippa Middleton's now-iconic bridesmaid dress. Seen by tens of millions of people, the dresses brought the McQueen brand a new level of recognition and respect.
Fast forward 12 years, and Burton has built the label to become one of the most successful in fashion, making clothing that still embodies the distinctive Alexander McQueen silhouette.
❝
As a woman you must be able to do so many things. I love that and the layers of complexity it involves. I always want to empower women, not in the obvious ways, but in ways that speak to all sides of them.
❞
SARAH BURTON, ALEXANDER MCQUEEN
In July 2016, Maria Grazia Chiuri was announced as the artistic director of Dior, succeeding Raf Simons. Prior to her appointment as Dior's first female artistic director, Chiuri created the iconic Baguette bag at Fendi in the 1990s and, helped revitalize Valentino in the 2000s.
Chiuri spent 17 years at Valentino, including eight at the brand's creative helm alongside long-term collaborator Pierpaolo Piccioli. The award-winning duo successfully redefined Valentino brand codes, growing the business to reach $1 billion in revenue in 2015.
Chiuri showed her debut Dior collection at Paris Fashion Week in September 2016. Since Chiuri's first collections went on sale, Dior revenues have tripled. "Avant Garde feminist energy meets stadium-sized showmanship turns out to be a solid commercial strategy," said a recent profile of Chiuri in the Guardian.
❝
To speak about fashion today cannot mean just to speak about Paris, London, Milan, New York. The tradition of fashion exists in every culture. We have to change the narrative, to celebrate every fashion culture on its own terms.
❞
MARIA GRAZIA CHIURI, DIOR
Gabriela Hearst started in fashion by launching her own brand, Candela, making silk-screened T-shirts in Brooklyn before expanding into ready-to-wear and shoes. In 2015, she launched her eponymous luxury label, and, in December 2020, she was appointed creative director of Chloé.
She famously walked into her Chloé interview with a 92-page proposal, including ambitious plans for sustainability. Revenues at Chloé leaped 60 percent in her first two years, according to WWD.
In 2022, under the direction of Hearst and CEO Riccardo Bellini, Chloé became the first luxury fashion house to achieve B Corp certification, a designation given to corporations that meet criteria pertaining to transparency and "high standards of social and environmental performance." The designation, she says, will keep her team accountable by requiring them to meet social and environmental performance standards while maintaining transparent messaging about these operations.
That accountability was demonstrated when Hearst dedicated her Spring/Summer 2023 collection to creating awareness around fusion energy. She believes fusion can be a large-scale solution to fossil fuel dependency. Hearst became an expert on the technology, even taking part in a panel at the United Nations Climate Change Conference in November 2022.
❝
I love older women. I love dressing them, I love living for them, I love their stories, I love their scars. I love their invisible scars, the visible scars. I love a woman's life.
❞
GABRIELA HEARST, CHLOÉ
After moving to California to study design at the Fashion Institute of Design and Merchandising, Monique Lhuillier met her now-husband, Tom Bugbee. While planning their wedding, the lackluster search for a wedding gown inspired her to get into the bridal business.
Established in 1996 by Lhuillier and husband Tom Bugbee, the company has grown into one of the leading fashion houses focused on bridal, dressing A-list brides such as Reese Witherspoon, Britney Spears, and Carrie Underwood. Fans include Emma Stone, Blake Lively, Gwyneth Paltrow, Taylor Swift, Reese Witherspoon, Jessica Alba and Michelle Obama. Monique Lhuillier continues to design collections that are both feminine and modern. Her ready-to-wear, accessories and bridal collections are luxurious, chic and true to her aesthetic.
❝
I always feel like a woman designing for a woman. I know what you want to accentuate and what you want to hide.
❞
MONIQUE LHUILLIER, MONIQUE LHUILLIER IN BRIDES MAGAZINE
After serving as creative director of Chloé early in her career, Stella McCartney launched her eponymous luxury fashion house in 2001, showing her first collection in Paris that October. In 2016, McCartney launched her first menswear collection.
Responsible and sustainable luxury sets her company apart. She has never used leather, feathers, skin or fur in any of her designs. "I don't want people to buy my stuff because they know it's not leather," she has said. "I just want them to want the boots."
Her design x environmental sensibility resonates with devotees. The low-slung tailored trousers and chain tops Stella McCartney features in her 2023 collections evoke her early-2000s Chloé days and have been wildly popular with celebrities and on social media. The Y2K styles use the latest in sustainable technology, including regenerative bio-diverse cotton; shoes in faux leather made from grape skins; bags in mushroom leather; and rhinestone pieces created without animal glues and solvent.
The looks in her Spring/Summer 2023 show were 87 percent sustainable and improved to 94 percent sustainable in her latest pre-fall collection. McCartney has also helped set up a $200 million fund that invests in sustainable agriculture, garment and technology companies.
Stella McCartney has some 50 freestanding stores, including at South Coast Plaza.
❝
I think the reason I have been doing this for my entire career now is really that I care. I'm deeply invested in trying to be a good citizen of Mother Earth and a businesswoman and a fashion designer.
❞
STELLA McCARTNEY, STELLA McCARTNEY
Véronique Nichanian joined Hermès as men's ready-to-wear designer in 1988, and today holds the title of artistic director of the Hermès men's universe, which encompasses the two annual clothing collections but also shoes, accessories and watches. When she was 19, she went to work with Nino Cerruti, eventually co-managing the men's collections.
She is one of fashion's longest-serving creative directors, and yet still finds a way to make engaging menswear that is timeless without ever being boring. "After so many years, so many collections, I'm still reinventing things," she told the New York Times T Magazine recently. "I don't like excess in the shape, I don't do excessively trendy pieces, my dream is to design timeless clothes, in a good way, which does not mean too classic or dull."
❝
I don't want to change men, I just want to make them feel their best, their most charming, comfortable and smart.
❞
VERONIQUE NICHANIAN, HÈRMES MEN
Vanhée-Cybulski was appointed head of Hermès womenswear in 2014. She worked previously at Celine, Maison Martin Margiela (himself a former designer at Hermès) and as design director at The Row. She is the first woman to serve as Hermès's womenswear artistic director in decades.
Vanhée-Cybulski approaches design by observing things on her body, and thinking about how she interacts with clothes. She creates seasonal collections that must consider trends at a company renowned for its timelessness. "The idea of craftsmanship is not just excelling in a technique," she says. "It's also the transmission of knowledge, and the transmission of an object from a mother to a child."
❝
In the face of human microchip implants and artificial intelligence replacing us in the workplace, we reveal our arms, our legs, our midriffs, our flesh in an outcry of physicality, as if to say to ourselves, 'Remember, what makes me exceptional is that I am human.'
❞
NADÈGE VANHÉE-CYBULSKI, HÈRMES WOMENSWEAR
Gianni Versace founded Versace in 1978. His sister Donatella worked with the company while she was at the University of Florence. She went on to collaborate and direct the legendary Versace campaigns photographed by Richard Avedon, Irving Penn, and Helmut Newton, and in 1994 became head designer of Versus. In 1997, she became artistic director of Versace following the death of her brother. Since then, she has defined Versace for a new generation.
"I needed to find my own voice, distinct from that of Gianni," she has said. "But it was a female voice, and getting respect as a female designer wasn't easy. I realized that I could better understand the contemporary woman. I could think like her, because I was her, and that gave me a great deal more confidence, both as a woman and in my work."
In 2000, Jennifer Lopez wore a green dress designed by Donatella to the Grammy Awards, causing an international sensation. Today, there are more than 200 Versace retail stores around the world, the brand is part of the Capri Holdings Limited luxury fashion group, and Donatella Versace continues as artistic director.
❝
My Versace woman is a multitasker with a job and a family. She's mostly looking for clothes that can be worn between seven in the morning and seven in the evening—perfectly tailored, a whiff of glamour, but without bombast.
❞
DONATELLA VERSACE, VERSACE
Following Coco Chanel and Karl Lagerfeld is not a challenge for the faint of heart. But when Virginie Viard became creative director for Chanel in 2019, she had spent 40 years prepping for the position. Viard first joined Chanel as a studio intern in 1987. She became creative director of Chanel, a position she held for more than 20 years. Lagerfeld described her as "my right arm…and my left arm." When he died, the brand did not seek a big name to step into the creative director shoes, finding the perfect person within the Maison.
Viard, who was taught to sew by her mother, established a label, Nirvana, when she was 20. In Paris, she was an assistant to the costume designer Dominique Borg. She joined Chanel and then Chloé, and then Chanel again, where she remains, bringing her unique and consistent creative aesthetic honed over decades to the new Chanel.
❝
I think the Chanel client is more modern, younger, with a more developed sense of fashion. But it's above all the boutiques that have changed a lot. There are always new things, and people are glad to walk into a store.
❞
VIRGINIE VIARD, CHANEL
Zimmermann is Australia's biggest fashion success story. The brand based in Sydney is known for its relaxed, resort-inspired style.
In 1989, Nicky Zimmermann set up a stall in Sydney's Paddington Market to sell her clothing designs. A friend wore one of Zimmermann's embroidered Western collared shirts to work at Vogue Australia, which resulted in a two-page spread in the magazine.
The publicity led to an influx of wholesale orders, and soon the brand debuted its first brick-and-mortar store in Sydney's creative Darlinghurst neighborhood. Sibling Simone Zimmermann came on board to help run the business side of the growing company as COO, while Nicky Zimmermann's focus is on design as creative director.
When Kate Middleton and Prince William visited Australia in 2014, Kate wore a white Zimmermann dress, causing an international fashion sensation. Adding swimwear to the fashion-forward collection elevated the brand's popularity, and now Zimmermann offers dresses and formal wear, suiting, knitwear and denim in its 19 U.S. stores, as well as in Europe, China, and of course Australia.
❝
For me to be able to try and really connect with the person and make them feel something with the garment that they've bought is really important.
❞
NICKY ZIMMERMANN, ZIMMERMANN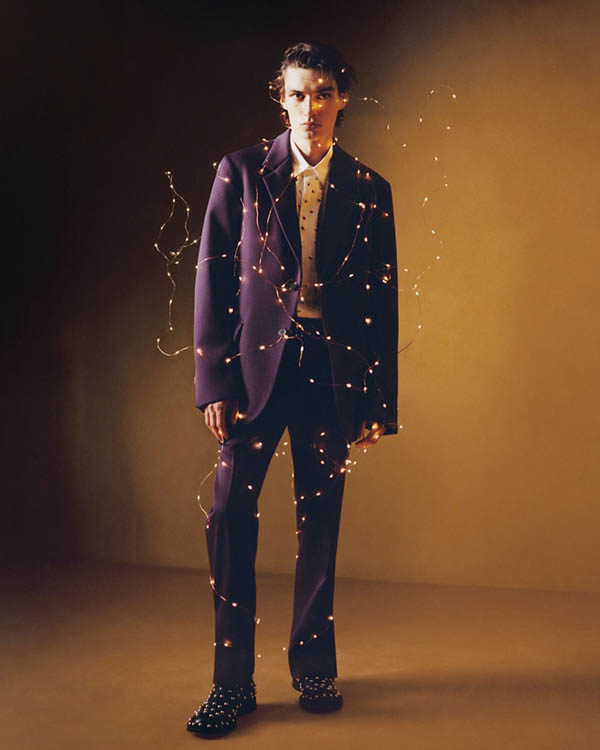 Indulge in this season's laid-back polish, festive glitz, and fresh takes on traditional tailoring.