WINTER YOUR WAY: MASTER THE ART OF LAYERED DRESSING
BY MICHELLE DALTON TYREE
Inspired pieces to cure a case of the mid-winter wardrobe doldrums
Designers may be sending spring down the runways right now, but groundhog Punxsutawney Phil has spoken and that toothy little prognosticator has declared that we're going to need to lean into winter a bit more (groan). But when it comes to how to dress for our unpredictable winter weather patterns, the famous marmot is — not shockingly — a little light on suggestions.
Never fear: That's where we come in. The art of navigating winter wardrobe woes is in the layering. And the secret sauce to mastering layering? Be playful. This season's proportions, colors and patterns are amped up, exaggerated, bold and bright — from Nicolas Ghesquière's joyful layering at Louis Vuitton — think striped rugby shirts paired over dresses — to Loewe's puffed-out proportions seen in its nappa puffer bomber jacket.
Our recipe is simple. Start with a great foundation piece, such as vest or coat, add in great knits, play with accessories and season to taste!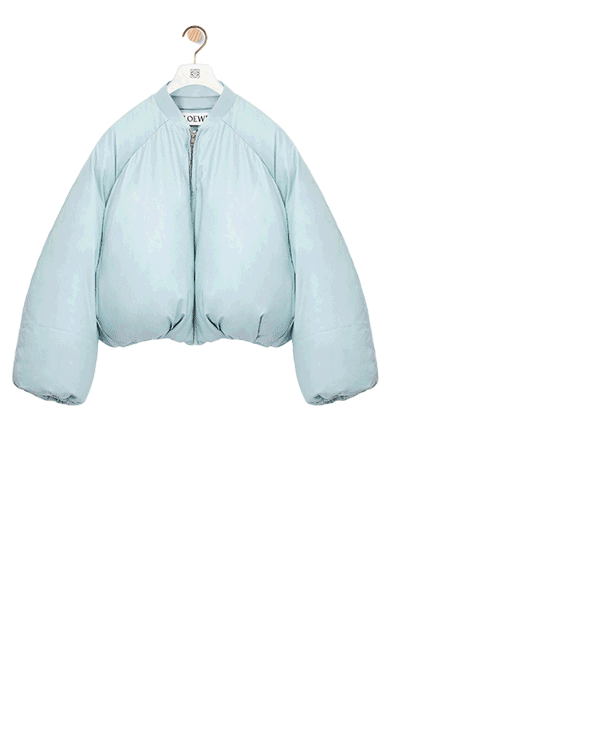 −
SOUTH COAST PLAZA
THE WINTER LAYERS EDIT
−
OUTER RANGE
Who said that practical layers have to be boring? Take hero pieces such as a vest or pea coat and up the ante with bold colors, yummy textures and modern, exaggerated shapes.
Kane Vest
A chic puffer vest is the ultimate layering hero. Pair it with a chunky sweater for cooler days or a slim turtleneck when it's warmer.
Level 1, Bloomingdale's Wing
949.504.8585
---
Teddy Bear Icon Coat
This coat, which debuted in 2013, has become an instant classic with many imitators. Both chic and playful, it has garnered legions of fans.
---
Brushed Cashmere Double-Breasted Pea Coat
The peacoat is a perennial classic, but we love this twist in a gorgeous icy blue.
Level 1, Saks Fifth Avenue Wing
714.868.3131
---
Puffer Bomber Jacket in Nappa
If you like it bold, this one's for you with shiny nappa lambskin and an all-over padded effect.
---
KEEP CALM AND COZY ON…
When in doubt, embrace the cozy and make it chic. This season's warmest winter layers are anything but basic.
Otto Regenerative Wool Polo Sweater
This sumptuous and ultra-flattering sweater is one of the season's hottest styles: The polo. Bonus: It's made with 100 percent traceable NATIVA ™ wool sourced from a transitional, regenerative farm.
Level 1, Bloomingdale's Wing
209.437.0250
---
Beige Cashmere and Wool Sweater
If you like your cozy with an extra dose of logo, this is for you! What we love: The unexpected placement of the Fendi mirror logo on the knotted side tie.
---
Ribbed Slouchy Skirt
Who said cozy has to mean a sweater? Mix it up with this fabulously chic cashmere knit skirt that pairs perfectly with everything from turtlenecks to tees.
---
A LEG UP…
The easiest way to luxe up your look when the temps are down? A fabulous pair of stockings, of course!
GG Pattern Tights
Slip into a pair of tights with those iconic double Gs and your outfit is complete!
Level 2, Between Jewel and Carousel Courts
714.557.9600
---
Velvet De Luxe 66 Tights
Wolford's high-elasticity matte tights come in an assortment of colors – from basic black to this season's most-wanted mocha hue and a range of other stand-out shades to add interest to any look.
Level 1, Saks Fifth Avenue Wing
714.556.7900
---
Toile Iconographe Tulle Tights
Take a simple LBD and give it new life with a pair of Valentino red logo tights.
---
COLD COMFORTS
A low-commitment way to add a little color and verve to your winter outfits is through accessories.
Scarf
This beautifully bright scarf is all you need to pull a look together.
Level 2, Din Tai Fung Wing
Coming Soon
---
Wool Beret
Cap off your outerwear with a wool beret in a ribbed knit for a fresh take on a classic.
Level 2, Bloomingdale's Wing
646.618.4440
---
Scarf in Mohair
The brand's two-toned logo pattern with fringed ends is a perfect marriage of style and substance.
As the Venice Film Festival gets underway, South Coast Plaza is celebrating the art of Italian…