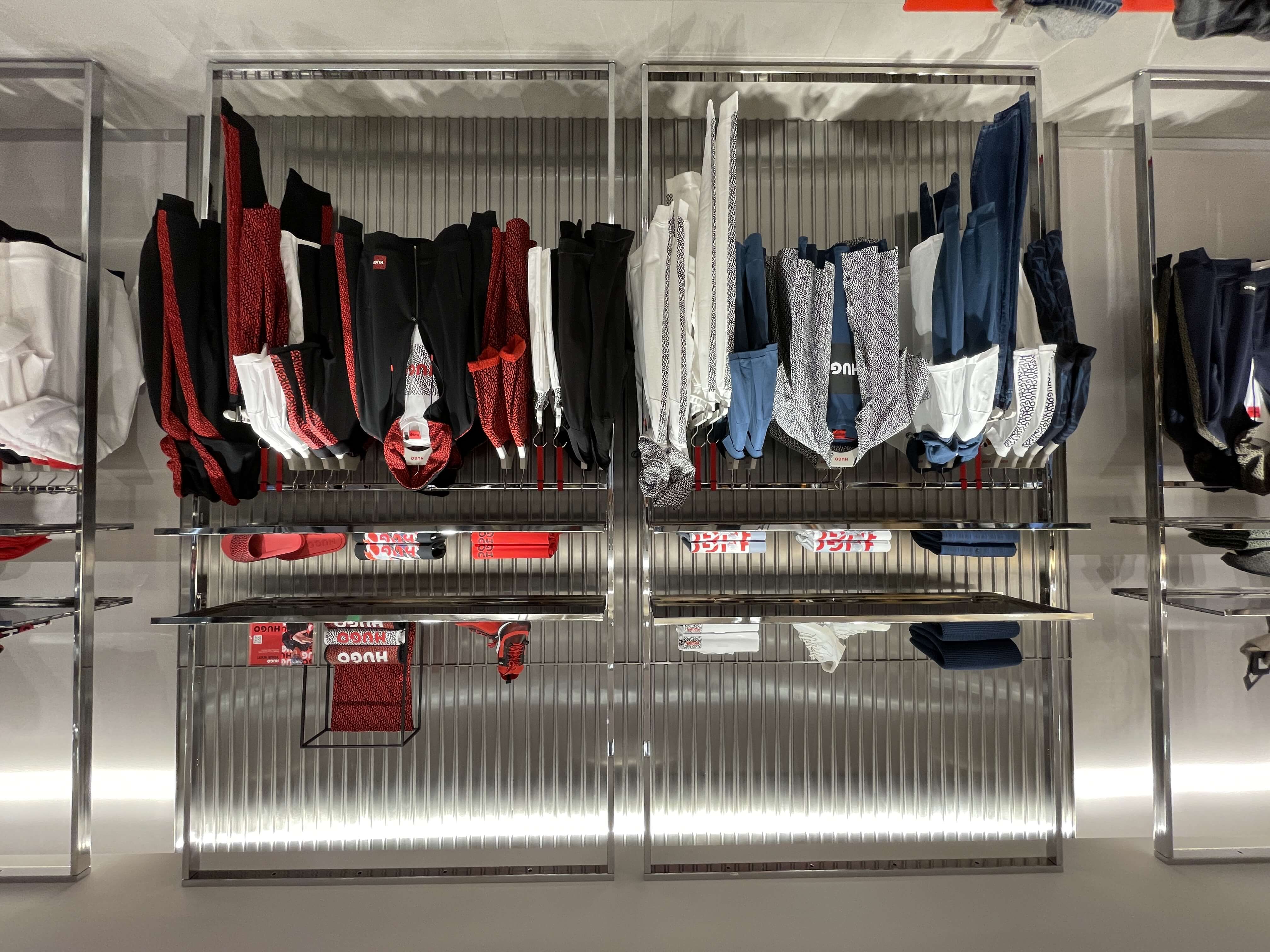 NEW STORE DEBUTS
BY MICHELLE DALTON TYREE
South Coast Plaza welcomes a stylish crop of new, refreshed & relaunched contemporary stores
Something inexplicable happens when fall fashion lands in stores and weighty September fashion glossies hit the shelves: An air of change, renewal and desire for all things cozy takes hold quicker than you can utter pumpkin spice latte.
 And this fall, in particular, has brought with it excitement for a return to events, along with renewed joy in finding just the perfect pieces to wear to fall and holiday gatherings and parties. At South Coast Plaza, a crop of sought-after contemporary labels are celebrating this season of re-invigoration by dropping new stores, pop-ups and refreshed locations. We've got all the deets for you below as you look to build out your fall wardrobe — from lush sweaters in anticipation of crisper days to rich velvets for the holidays and, of course, the perfect accessories to punctuate every outfit.
John Varvatos
−
SOUTH COAST PLAZA
THE NEW STORE EDIT
−
Level 2, Din Tai Fung Wing
714.432.2000
Shake up your accessories game this fall with eyewear darling Gentle Monster. The beloved Korean eyewear brand opens a new 4,500-square-foot flagship store. Always pushing the style envelope, the brand — which has had major collabs with labels such as Moncler, Hood By Air and Coperni, and a partnership with K-POP idol Jennie of BLACKPINK — will carry its most sought-after designs.
Gentle Monster, which ascribes to the philosophy of high-end experimentation, is equally known for its unique, cutting-edge retail design. The theme for the South Coast Plaza flagship is "evolution" and it will submerge visitors into the Gentle Monster world through digital and animated artwork including: continuously rotating kinetic installations, video artwork and objects that depict mechanisms of evolution.
Level 2, Bloomingdale's Wing
714.545.5551
The signature rock 'n' roll edge which has become synonymous with John Varvatos style, gets a cool new home this fall in the Bloomingdales Wing at South Coast Plaza. Never mind if you've never picked up a guitar in your life, you can still channel your inner Mick Jagger or Lenny Kravitz this fall with Varvatos' luxe, effortless edge. Think graphic tees and slim jeans paired with a cool cardigan and rolled silk scarf or a buttery shearling jacket in a rich hue with a vintage-style tee or distressed cashmere sweater underneath. Add tousled hair and a five o'clock shadow and you're good to go.
Level 2, Bloomingdale's Wing
714.641.8661
The Boss-suit wearing archetype has evolved from a sharply tailored boardroom power player to one of a new multi-faceted style-setter taking strength in softness and fashion's modern fluidity. Celebrate the evolution with the new collection showcasing the fall/winter 2022 collection. The pieces that have embodied empowerment in years gone by, from traditional full-canvas suit jacket to leather motorbike pants, are reworked in sinuous shapes and delicate materials, proving that clothing doesn't have to be rigid or protective to still feel like, well, a Boss.
Level 1, Bloomingdale's Wing
714.979.1771
A gorgeous new home for Coach at South Coast Plaza is the perfect kick-off to the brand's most-wanted Fall 2022 collection. Helmed by Coach Creative Director Stuart Vevers, Coach introduces quintessential pieces such as shearling and leather outerwear contrasted with romantic lace and crocheted dresses, pops of neon, and leather ready-to-wear that harken to edgy '70s bars and celebrate the house's role in shaping American style.
Die-hard Coach fans will be eager to get their mitts on new pieces for fall created in collaboration with celebrated Brooklyn-based graffiti artists Mint + Serf. These special styles feature the duo's raw, expressive artwork, inspired by the energy and attitude of New York, Coach's hometown. Mint + Serf also collaborated with the house to create original artworks for the campaign.
---
MORE STORIES
As the Venice Film Festival gets underway, South Coast Plaza is celebrating the art of Italian…
---