PRINTS CHARMING
BY MICHELLE DALTON TYREE
Patterns and prints are extra bold this spring and we're here for it
Legendary Harper's Bazaar and Vogue editor Diana Vreeland once said: "Fashion must be the most intoxicating release from the banality of the world." Never has that been truer than this spring when designers threw banality to the wind by embracing a veritable kaleidoscope of bright, bold look-at-me patterns.
In the spirit of Vreeland's Why Don't You column, where she perfected fashion witticisms with unconventional suggestions such as "Why don't you… put all your dogs in bright yellow collars and leads like all the dogs in Paris?" we're offering a few of our own light-hearted suggestions for how to wear this season's playful patterns and prints, shown here by supermodel Fernanda Ly.
Let this spring be a masterclass in playing with pattern and declaring your style.
WHY DON'T YOU…
---
Style a bold dress of wide, uneven stripes with matching jogger pants for modern Moroccan vibes.
---
Embrace your urban cowgirl in a fresh, verdant print dress with twist-front detail and three-quarter sleeves. Add a chic cowboy stiletto boot to complete the look.
---
Channel your inner artist in a soft watercolor floral-print tiered dress with flouncy sleeves and an embroidered bodice.
---
Harken back to the Coach archives in a breezy yellow plaid print dress inspired by a design created by Bonnie Cashin, Coach's first ever head designer. Wear the necktie undone or tie in a big, fabulous bow.
---
Get a little wild with your style in matching zebra print button-down shirt and shorts. Don't forget to add some cat-eye sunnies to top it off!
---
Make a big entrance for brunch in a fiery orange dress adorned with bold butterflies. Accessorize with a yellow trunk bag and pink kitten heels.
---
Tie an au courant '70s floral-print shirt high at the waist and pair it with matching high-waisted floral trousers.
---
Pack a picnic while wearing a Michael Kors gingham dress with fitted bodice and slip the sandwiches into a chic leather market bag.
---
Make like a socialite in an iconic Slim Aarons photo and wear a bold green palm print while you hold court by the pool.
---
Embrace counterculture chic with a psychedelic-print suit jacket and matching flare-leg pants.
About the location: California Scenario by Isamu Noguchi was commissioned by Henry T. Segerstrom, co-founder of South Coast Plaza, and is recognized as one of the nation's preeminent sculpture gardens. This masterpiece symbolizes various geographical characteristics in California and incorporates indigenous plants and materials. Through a centerpiece called The Spirit of the Lima Bean, the Noguchi garden honors the Segerstrom family's agricultural heritage in Southern California. Learn more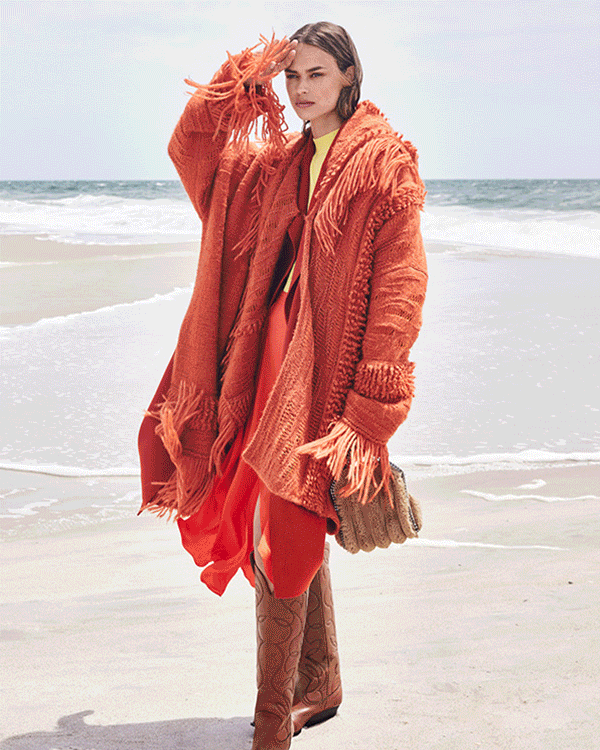 Autumn's breezy days and nights beckon thoughts of enveloping yourself in the season's softest, coziest style….