A COLORFUL SPRING
BY MICHELLE DALTON TYREE
Must-have Hues from the Women's and Men's Collections
If there's one unequivocal style directive this spring, it's color, color — and more color.  Designers are injecting major optimism into their spring collections with a palette that includes dreamy pastels, bold brights, look-at-me neons and prints galore.
The message they're channeling is loud and clear: People are seeking renewal, lightness and positivity and making a silent collective wish for a brighter, more peaceful time. 
Soothing hues and sensuality are a prominent theme in the spring palette from color authority Pantone. Its selection for most-wanted shades reflected the veritable kaleidoscope of colors seen on the runways, from Spun Sugar (a pastel blue) to Gossamer Pink (a powdery pink) and the neon Orange Tiger hue and plenty of blue and green shades to harken back to a return to nature.
Whether your taste runs from soft sherbets to peaceful pastels or DayGlo neons, this is a time to experiment with spring colors, be light and paint your own palette of personal style: 
−
THE SPRING FASHION EDIT
−
Perhaps no designer underscores the desire for rebirth more than Loewe designer Jonathan Anderson. Models at the Loewe spring/summer 2022 show emerged from beneath the floor of the runway at La Garde Républicaine, an equestrian arena in Paris. It was the first runway show that Loewe had staged in years, which the house billed as "a renaissance."
−
Ethereal dresses in soothing sky blue hues and soft buttercup yellow are part of an "outburst of experimentation—where provocation, sensuality and movement mark a definitive point of departure," according to Loewe.
−
That experimentation is also alive and well at Givenchy where creative director Matthew M. Williams looks to balance the house's storied past with a nod toward the future. One such standout piece this season is a dramatic lavender evening gown that pairs a structured, deconstructed bodice with opulent, bejeweled tulle skirting.
The arrival of pink and all its permutations, from a pale ballet slipper shade to a Barbie bright, began last season. It's gaining momentum this spring, as Giorgio Armani aptly shows in a collection filled with sparkling diaphanous gowns and sheer tops. Armani pairs bubblegum pink and fuchsia with gray and shades of blue, not so much to soften the pink as much as to emphasize it.
−
Hang on to your new pink things because they're going to take you into fall, based on what we gleaned from the recent runway collections.
−
Botanical-inspired shades are an inescapable theme with Kelly green emerging as one of spring's de rigueur colors. It's a favorite at Ralph Lauren, who has dubbed his version Greenwich green and parlays it into pleated, ribbed and ruffled dresses.
Bottega Veneta is doubling down on Kelly green, after embracing the color in a big way last season and turning its mini Jodie bag and chunky puddle boots into instant A-list and influencer favorites. The fashion world has even co-opted the term "Bottega Green"  which is likely to continue with new accessories and footwear destined to achieve coveted status.
−
Designers are serving up other shades of green and its sibling, yellow, opting more for highlighter shades – from crisp, bold suiting at Versace to Gucci GG leggings and bike shorts.
−
Gucci's Alessandro Michele, a master of unconventional mixing, layers blazers and lightweight coats over neon citrus-hued athleisure.
In a collection that juxtaposes black against brights, Donatella Versace's take on green is decidedly lime – head-to-toe solids, or mixed with other neon hues such as hot pink, yellow and turquoise.
Dolce&Gabbana, a black and highlighter lemon logo print is playfully paired with floral pants in jewel hues.
Prada loves highlighter shades as well, but in orange neon. And true to the house's form, styling is more whimsical with pieces such as an orange neon satin high-low skirt paired with a gray sweater.
−
While spring colors run the gamut, one thing is certain: Fashion has found its flow in ROYGBIV and embraced the full spectrum.
−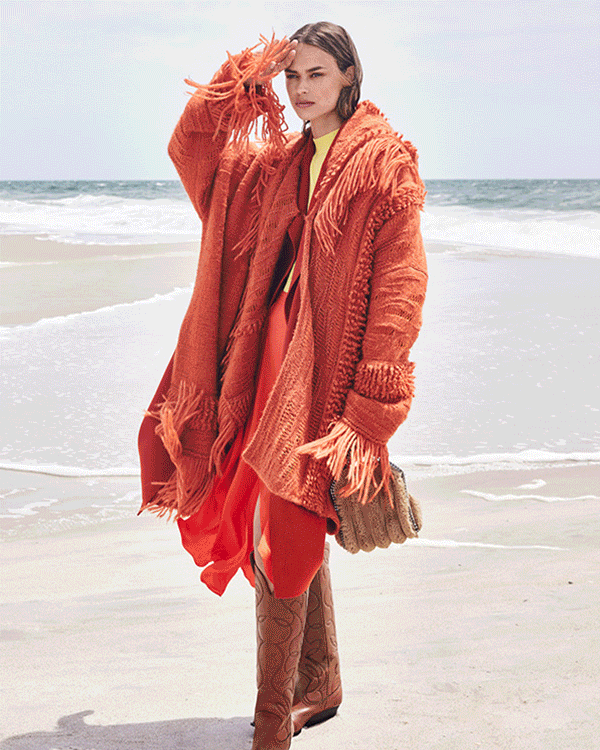 Autumn's breezy days and nights beckon thoughts of enveloping yourself in the season's softest, coziest style….