VIEW THE
SALVATORE FERRAGAMO
WINTER COLLECTION
Philanthropy Meets Fashion in Show Benefitting Working Wardrobes
"Future Positive" was the hopeful theme of the winter collection shown by the South Coast Plaza Salvatore Ferragamo boutique at a private philanthropic event in Irvine recently. Presented by South Coast Plaza in partnership with Salvatore Ferragamo, the runway show raised funds for Working Wardrobes.
The collection drew inspiration from motorcycles, athletics, scuba, military elements, among others, to reflect a utopia in which "diversity and positivity come together to transform the world into a better place," according to the Salvatore Ferragamo collection notes.
Shirts, mohair knits, footwear and accessories were presented in monochrome against bursts of color.
Capes and coats coexisted with utility parkas and casual tailoring, while fine gauge knits featured technical accents and an abstract camouflage pattern.
A constellation of draped jersey dresses shone throughout the lineup.
Space-biker boots, scuba sock sneakers and rubberized nappa clogs appeared along a sleek interpretation of Salvatore Ferragamo's signature F-heel, adorned with rhinestones and a luminous galvanized finish.
The collection also focused on sustainability, featuring numerous materials and components made responsibly, from leather tanned without chrome or other metals to wool and cashmere derived from pre- and post-consumer recycled fibers.
Wooden soles, for example, came from certified and responsibly managed forests, while vegetable tanned leather underwent a certified production process with low environmental impact. Some leather items were made from 100 percent recycled materials.
The message within the collection was clear: The future looks positive when we value what we use from the world we live in.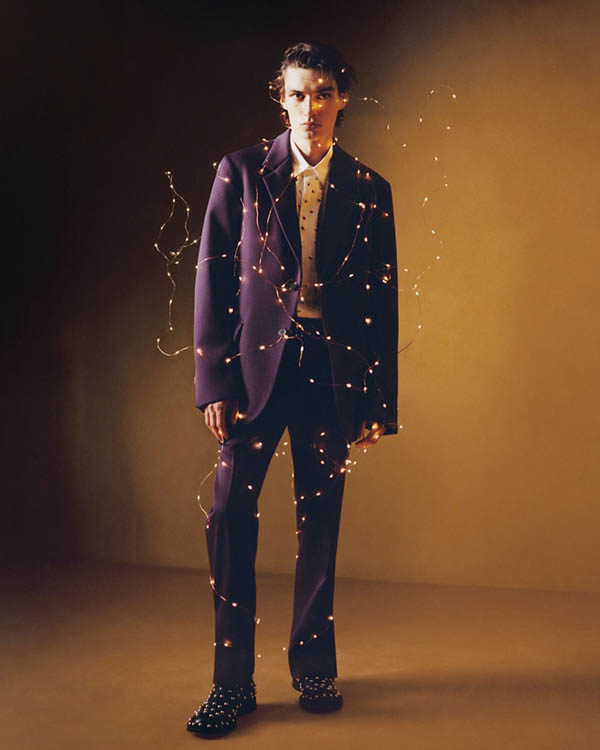 Indulge in this season's laid-back polish, festive glitz, and fresh takes on traditional tailoring.